Do-It-Yourself Fencing Project
Get Your DIY Fencing Project Done Right!
Are you planning a DIY fence installation? The EZ Fence 2 Go system from ActiveYards brought to you by Fence Dynamics is the best way to go. It takes Do-It-Yourself fencing to the next level thanks to ease of installation, total customization and next generation technology. Packaged in kits, it represents a high quality but cost effective solution for those customers with a do-it-yourself mindset.
With a fast and effective installation method that takes customers from selection to preparation and then assembly in 3 easy steps, EZFence2Go is the best way to enhance your property with an ActiveYards fence system. We offer assembly options, allowing customers to pick up orders and manage the installation themselves. Whether it be a DIY project or you hire a local contractor, you will know you start with a complete system that best suits you.
Call us now at 941-697-4448
Instructions For Designing And Purchasing Fence Materials
Measure off the entire area and draw a layout. Making a drawing or measuring your fence layout is an essential part to your DIY project.  You will have a better idea of the right amount of material needed for your particular project.  Please don't hesitate to call Fence Dynamics at (941) 697-4448 with any questions.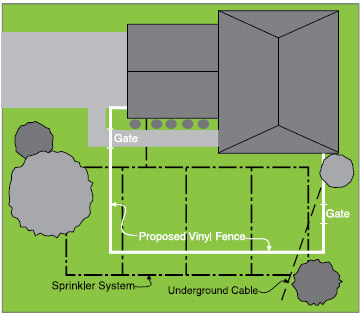 Measure the perimeter of your yard, but first:
Confirm your property line.
In order to get accurate measurements, you need to know
exactly where your property line is.
Locate underground utilities.
Underground utility lines will affect where your fence posts can be placed.
Research local zoning codes and restrictions.
Some cities and neighborhoods have restrictions on fencing.
Check for obstructions.
Check where frost line is.
Mark and measure your yard.
Note: Where there are sections of yard less than 6 feet in length, panels can be cut down.
Place a stake in each corner of your yard and every 6 feet, as that is where posts will go.
Add up all your measurements and divide by 6, depending on the fence series/fence width you chose.
Think about where you would place your gates if you are going to have any.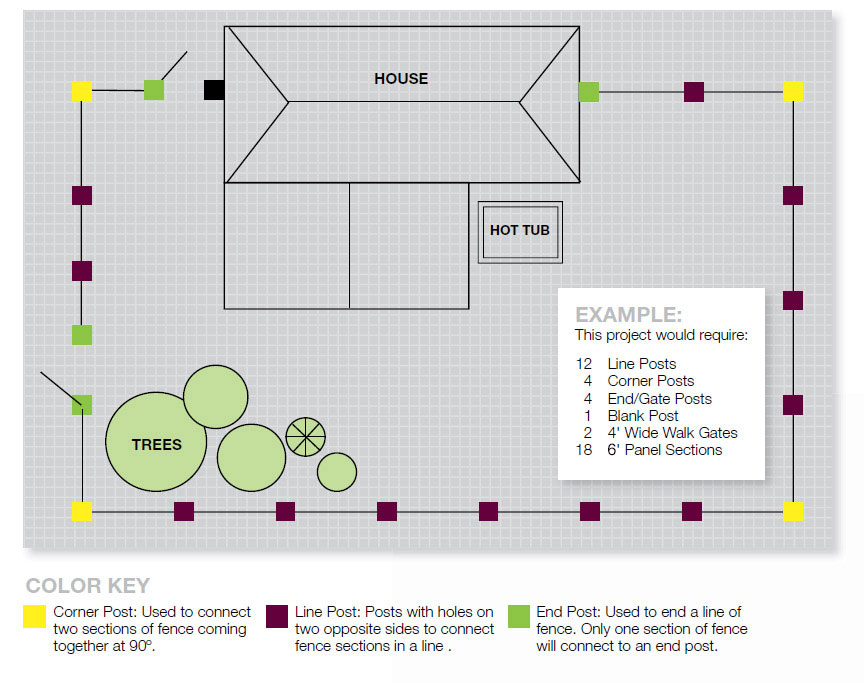 Count the number of corners and ends of your yard and that is the number of corner and end posts you will need. (If your fence stops at your house, a tree or a gate that is an end post.)
Count the number of stakes you put in the ground every 6 feet and that is the number of line posts you will need.
Note: modify your calculations if your fence panels will not be 6ft sections
Count the number of gates and note the size.
Count the number of sections (sections are 6 feet wide)
Don't forget post tops and gate latches/hardware.
Tools:
Torpedo Level
Circular Saw
Ready Mix Concrete (1½ Bags per Post)
Post Hole Digger
Digging/Tamping Bar
Stakes and String
Tape Measure
Materials:
Be sure to take a complete inventory of all parts and tools. Do not attempt to assemble the fence if parts are missing or damaged.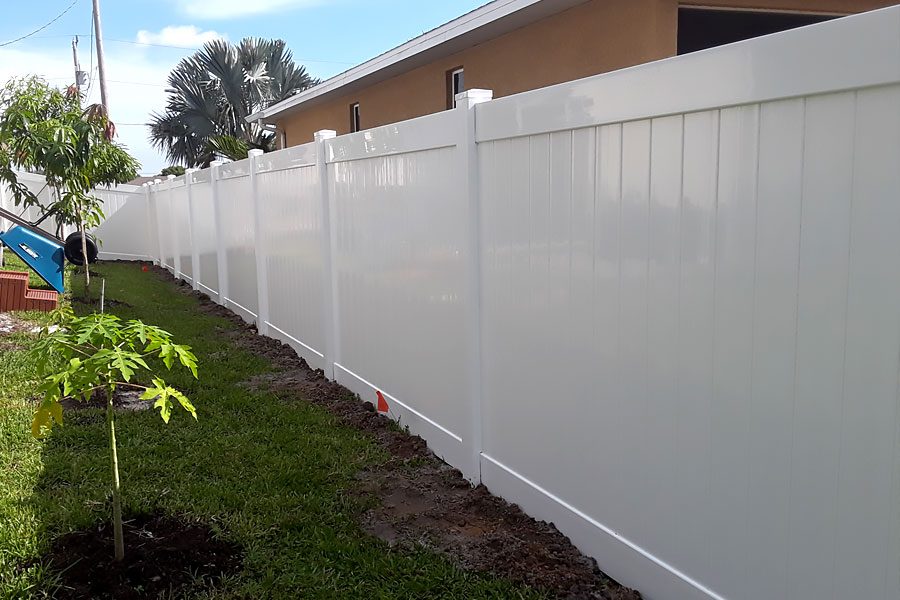 Mark the fence location using string and line stakes.
Starting with a corner or an end post; dig holes 6" to 12" in diamter and 24" to 36" deep (depending on style). Use the Center-to-Center measurements of the fence style being installed for post distance. Dig next hole. (Suggestion: do not dig more than 1 hole ahead until you are confident in your spacing)
Set post to plumb level, tamp and secure, then insert or assemble section. Repeat. (If you need to shorten a section; cut rails at desired length. You may need to modify rails to insert into the post.)
Upon completion of a "line", step back and observe. You may want to lower posts (block of wood on top and slam) or raise posts to match the "grade" (pry, and re-tamp).
Follow up specific instructions for gates.
Clean, wipe down, spread some grass seed and enjoy!