Chain Link Fencing
Fence Dynamics offers a large variety of chain link fencing products and installation for increased perimeter security. When shopping for your fencing needs, be sure that when you compare prices you are comparing the same quality of products. There are several gauges (thickness) of wire as well as different thickness of posts and framework. The higher the gauge number, the thinner the wire. We can discuss the type that will best meet your needs.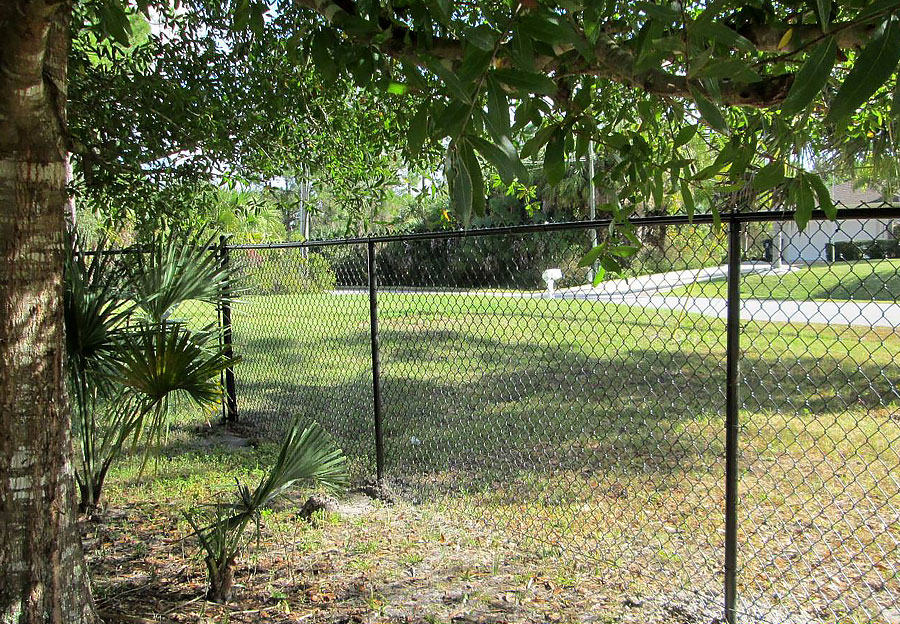 The three main types of wire (or fabric) are galvanized, aluminum coated (aluminized) and vinyl coated. The most common is a 2″ mesh, meaning the "holes" in the wire are 2″ squares. Other mesh sizes range from 1″ to 2 3/8″. All fence wire is available in different gauges. Following is our recommendations for residential fencing security:
The vinyl coated wire comes in green, black, brown, and white. This is a 9 gauge wire including the vinyl. Vinyl coated wire will not rust unless the vinyl coating is ripped or torn.
The aluminum coated wire comes in 9 or 10 gauge. We commonly recommend 10 gauge for residential installations. This gauge is economical, yet strong enough to handle most residential needs. With this type of fencing the wire is dipped in the aluminum coating prior to being woven. This procedure provides the least likelihood of rusting and a very smooth surface.
Galvanized coated wire 11 gauge is mainly used for residential construction and 9 gauge for commercial construction.
Chain Link Fencing Solution.
Posts and framework for all chain link fencing also come in a variety of thickness as well as diameters. Posts and framework can be either galvanized or vinyl coated to match the color of your wire. We currently stock 3 different grades of galvanized posts and framework:
Residential Grade – pipe wall thickness of .065″
Heavy residential/Light Commercial Grade – SS20 weight class
Industrial Grade – SS40 and Schedule 40 weight class
The pipe wall thickness of the 20 and 40 weight varies by diameter and is strong enough for your heavier projects. Again, we can help you select the products that are right for your chain link fencing project.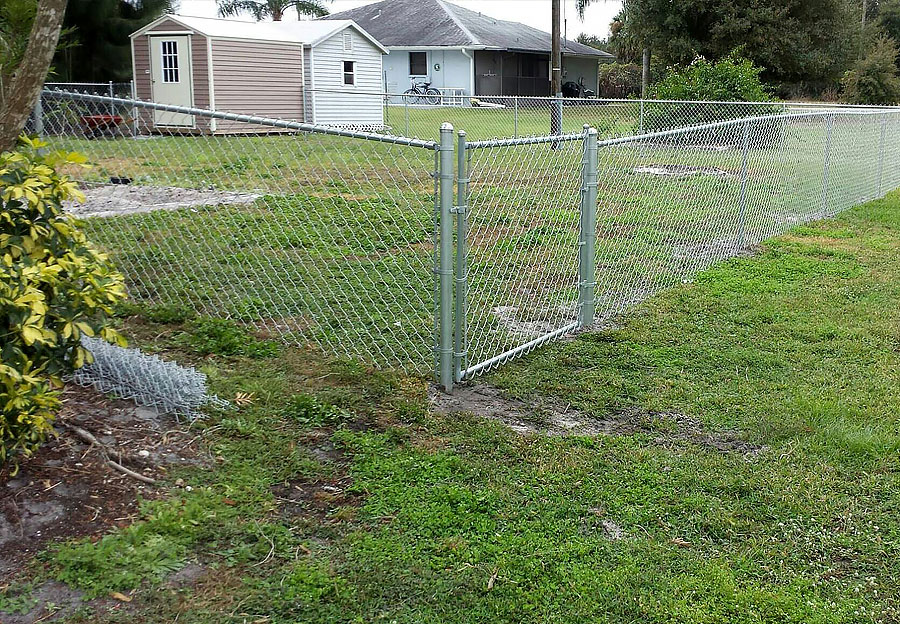 Fence Dynamics serves the greater Port Charlotte, Orlando, Sarasota, Fort Myers, and Naples communities with professional chain link fencing installation solutions for increased perimeter security.
Our other fencing styles include PVC vinyl, wood, iron, aluminum, and privacy fencing
What Our Customers Have To Say!
My fence was installed in a timely and efficient manner. Will be going back here for my next fencing job!
My new fence is gorgeous! Fence Dynamics was great to work with, from initial contact through install. Very professional, courteous and thorough.
My experience with Fence Dynamics was positive. They were professional in their dealings with me and made corrections when necessary. I am pleased with the fence that they installed in my back yard and would recommend Fence Dynamics to anyone that needs fencing service.
Love my new fence! Fence Dynamic did a wonderful job installing our fence for our dog run. The color matches our house beautifully and 3ft was the perfect height. since we were up north we were not here for the installation the job could not have been cleaner. I was given weekly updates until the installation which was very helpful. Thank you all so much. I would highly recommend you to any of my friends and neighbors.
These guys did a really good job with my aluminum fence. We live in a very nice neighborhood and wanted something that would look great, and even though it was a little more expensive than we were hoping for, fence dynamics cam through. We're very happy with the job they did. They showed up on time and got the work done and answered all our questions. Nowadays that's a big deal because there are a lot of unreputable contractors out there.