Wood Fencing
Wood fencing contractors Fence Dynamics offers a variety of wood fences for every purpose. Our most popular wood fence is custom built treated pine or cedar wood fence. The style of a custom built fence varies by individual taste. It can be as simple a basic picket fence or as decorative as a shadowbox style with elaborate finials and a scalloped top. Most of our installations are custom built. We set your posts in solid concrete footers, install the horizontal rails, place each vertical picket and build your gates. Many different picket tops are available.
Also available is stockade fence. Standard panels are 6′ high x 8′ wide. This fence is available in using a treated pine wood or cedar. Using a panel can reduce the cost as compared to a custom built installation. However, panels typically work best on level landscape and may need to be "stepped" on a grade or hill. Wood fencing also doubles as a great privacy fence as well. Our fence installation services are flexible and customizable toward each clients unique needs.
Our traditional split rail wood fence is also a popular style. Available in 2 or 3 rail, split rail fence is built using pine posts and rails. Welded wire or chain link material can be attached to any split rail fence for added security and protection.
Port Charlotte residents will experience expert craftsmanship through Fence Dynamics wood fencing contractors and fence installation services.
What Our Customers Have To Say!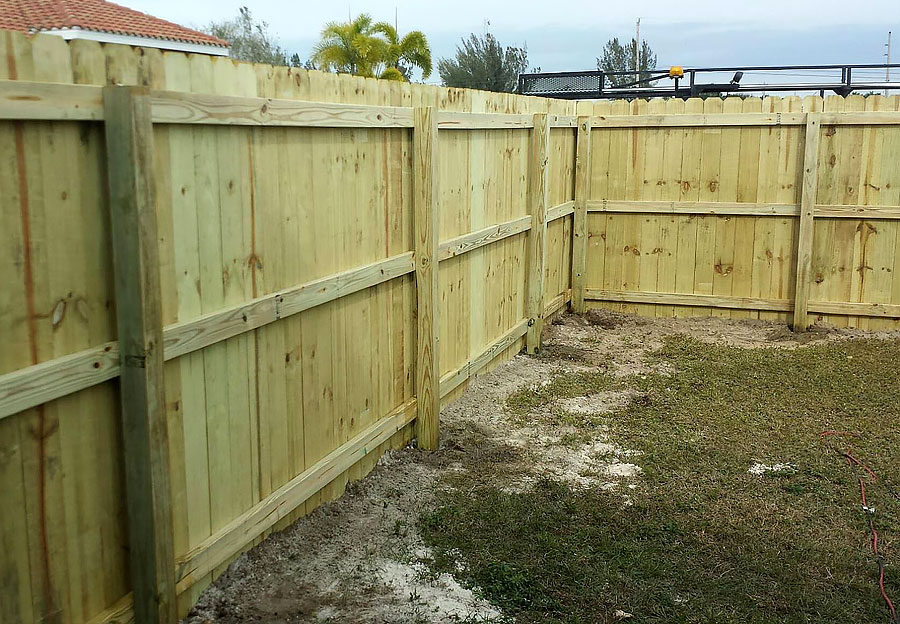 My fence was installed in a timely and efficient manner. Will be going back here for my next fencing job!
My new fence is gorgeous! Fence Dynamics was great to work with, from initial contact through install. Very professional, courteous and thorough.
My experience with Fence Dynamics was positive. They were professional in their dealings with me and made corrections when necessary. I am pleased with the fence that they installed in my back yard and would recommend Fence Dynamics to anyone that needs fencing service.
Love my new fence! Fence Dynamic did a wonderful job installing our fence for our dog run. The color matches our house beautifully and 3ft was the perfect height. since we were up north we were not here for the installation the job could not have been cleaner. I was given weekly updates until the installation which was very helpful. Thank you all so much. I would highly recommend you to any of my friends and neighbors.
These guys did a really good job with my aluminum fence. We live in a very nice neighborhood and wanted something that would look great, and even though it was a little more expensive than we were hoping for, fence dynamics cam through. We're very happy with the job they did. They showed up on time and got the work done and answered all our questions. Nowadays that's a big deal because there are a lot of unreputable contractors out there.